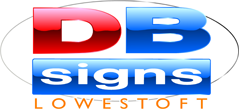 About Us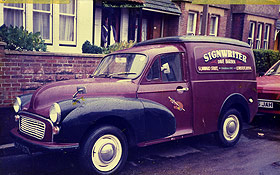 We are a family run business and have been trading since 1968 when Dave Barber (snr) started out as a traditional Sign Writer and Pictorial Artist, signwriting everything from house names to 40' curtain sided lorries for Ferrari & BMW to swinging pub signs.
In 1991 Dave Barber (jnr) left school and trained with his father to carry on with the traditional side of the business. A few years after that the decision was taken to move with the times and invest in a vinyl cutter and expand the business whilst retaining the traditional methods and values that had worked so well in the past.
The business is now run by Dave Barber Jnr. (although Dave Snr. is sometimes "coaxed out of retirement"!).
DB Signs now offer everything from the most traditional hand painted and guilded signage to the most modern cut and printed options whilst holding on to our original ethos – "To give the customer our best at all times".
DB Signs is located at 42d Pinbush Road, South Lowestoft Industrial Estate, Lowestoft, Suffolk NR33 7NL.
Here are some partners we recommend