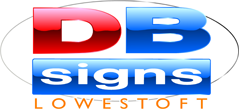 Frequently Asked Questions (FAQ)
Q I would like to find out about having a sign/graphics made what should I do next?.
A Make contact with us via the website, phone or pop in and see us, please leave a message if we are unable to get to the phone, we will return your call as soon as we can. We will discuss your needs, colours, sizes budget etc and will usually be able to give you a rough idea of cost, if you are happy to proceed we will proof up your job and include a firm quote for you to sign off, once this is done we can give you an installation/fitting date.
Q What are your opening times?
A We are here from 8.30 am - 5.30 pm Monday to Thursday and 8.30am - 5.00pm on Friday, However if you are planning on popping in please call ahead as we occasionally have to send the whole team fitting which leaves the workshop unattended.
Q How much is a sign?
A Every sign is different and as such will involve a different approach and set of suitable materials, once we have discussed your requirements we will be able to give you a quote and ensure that you get the right job done.
Q Does DB Signs charge for quotes?
A No, we will dicuss and quote Free Of Charge, no charges are made until the artwork has been approved and the quote is accepted in writing.
Q How long will my job take?
A We do our best to turn quotes around in 4 working days, once we have artwork signed off (a job form is available to downlad from the site) we will be able to give you an installation date, this will vary on our workload but is usually around 7 days, weather permitting for external work!
Q Do we have to a leave deposit?
A If the job that you have booked in requires materials over £100.00 or materials that we do not carry as stock items we may ask for a deposit of 50% of the job total (plus vat).
Q Does DB signs give credit?
A No, not unless you have opened an account with us, initially all work carried out must be paid for in full on completion, once we have carried out three jobs that have been paid in full we can open an account for you that will include 30 days credit.
Q Can we take proofs of artwork away?
A You are welcome to view proofs at our premises as many times as you wish, proofs may be taken away if a non refundable deposit of 50% of the job total (plus vat) is paid of if you have an account with us, If the work is booked in and carried out within 3 months the deposit is set against the original quote, this also applies to emailing artwork to customers.
Q What type of files can you work with.
A Please see our Artwork requirement section.
Q Can the artwork be saved ont a disk so that we can use it on letter heads etc?
A We can save the major elements of your artwork onto a disk once the job has been carried out and paid for in full, we will save it as a JPEG at 100dpi at a size not exeeding 100mm in length, there is a £25.00 flat fee to cover the cost of converting the artwork to a jpeg and the cost of a disk.
Q Does the quote include VAT?
A All prices are plus vat at the current standard rate unless otherwise stated.